You know the wall, the PU Alumni Wall in the Yankee Doodle Tap Room, that attracts locals and travelers from all over to stop and gaze at the prestigious individuals who have attended Princeton University. Most faces you recognize, Brook Shields, Michelle Obama, Jason Garret, Ralph Nader to name a few, but what about the names & faces you may not recognize. Like Jeff Moss, you may not recognize the name or face but I am certain you have sung one of his songs, especially one about a rubber duckie…here are some interesting facts about the 1963 graduate:
According to his Wikipedia page Jeff Moss had become not only the first head writer but also a composer and lyricist for Sesame Street in 1969. He is credited for writing the following songs for the show: "I Love Trash", "Who Are the People in Your Neighborhood", and "Rubber Duckie". "Rubber Duckie" became a surprise mainstream hit, reaching #16 on the Billboard Hot 100 in September 1970. Moss is also credited with, among other things, creating the character of Cookie Monster, based on a puppet Jim Henson had created called "Boogle Eyes".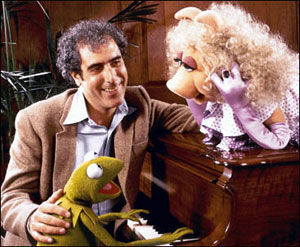 Moss wrote the song "Nasty Dan", which Johnny Cash sang when he appeared on Sesame Street; it was later featured on the 1975 The Johnny Cash Children's Album. Then in 1984 he was nominated for an Academy Award for the The Muppets Take Manhattan which he wrote the music and lyrics for. In total, he was credited with winning 14 Emmy Awards.
Moss wrote many children's books, most notably the 1989 book "The Butterfly Jar" and the 1992 "Bob and Jack: A Boy and His Yak". He also wrote under the Sesame Street brand name, which included the titles of "The Sesame Street Book of Poetry" and The Sesame Street Songbook.
His other works include "The Other Side of the Door" (1991), "Hieronymus White: A Bird Who Believed That He Always Was Right" (1994), "Bone Poems" (1998) and "The Dad of the Dad of the Dad of Your Dad."
In 2007, Princeton University ranked Moss as one of its 26 most influential alumni, citing the effect of his songs and characters on the Sesame Street audience. Sadly, Jeff Moss, passed away in 1998 at the age of 56 from colon cancer.